I know that many of you know Bobby Martin.  Bobby's created a new Go Box that he wanted to share with us!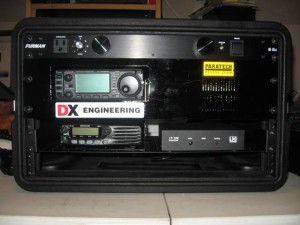 According to Bobby. it has a FURMAN M-8Lx Merit Series Power Conditioner on the top, followed by an Icom IC-706 MkIIG. On the bottom shelf is a Kenwood TM-281 2 meter rig next to an LDG IT-100 autotuner.  He'll be adding more to the box and will keep us updated as he does.
It looks great to me and I hope we get to hear it in action soon!
Update!
I think that most projects of this sort are done through trial and error and go through multiple iterations.  Bobby shared some more pictures that show some improvements and rearrangements of the equipment.